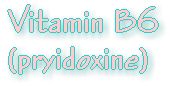 Daily Amount Needed
1.3 to 1.7 mg for adults - 2 mg for women who are pregnant or lactating.
Children need between 0.6 to 1.3 mg B6 per day.
Vitamin B6 Information
B6 plays a role in the creation of antibodies in the immune system. It helps maintain normal nerve function and acts in the formation of red blood cells. It is also required for the chemical reactions of proteins. The higher the protein intake, the more need there is for vitamin B6. Too little B6 in the diet can cause dizziness, nausea, confusion, irritability and convulsions.

webmaster • privacy policy • site map • contact

See our terms of use/disclaimer for use of this website.