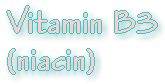 Daily Amount Needed
16 mg for adult males and 14 mg for women - 17-18 mg if pregnant/lactating.
Children need 9 - 16 mg of niacin per day.
Vitamin B3 Information
Niacin assists in the functioning of the digestive system, skin, and nerves. It is also important for the conversion of food to energy.

webmaster • privacy policy • site map • contact

See our terms of use/disclaimer for use of this website.